Living Our Vision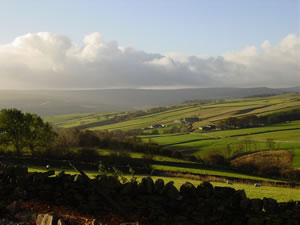 Prydale Partners is more than a company which helps people to create their own life choices, it has become our ethical and environmental way of life.
We are Jane and Andrew Pearce. We had a vision of how we wanted to live our lives, bought our property in this amazing part of the world and set about creating Prydale Partners.
We live and work on a smallholding on top of the North Pennines with our children and numerous animals beyond the back of beyond and just this side of chaos!
Having created this choice for ourselves, our mission is to enable others to live their lives as they really want to.
We help you to create changes in your life through:
one-to-one coaching or therapy
working with employers
working with fellow professional practitioners
We have also created the very popular self-contained 2-bedroomed Red Brick barn conversion to enable you to come and share our environment. You can use The Red Brick for anything from a solitary retreat to give yourself time to catch up with the world to a holiday home for four with a variety of outdoor activities. We also manage 2 other properties locally and can accommodate larger groups.