We are situated in a very tranquil part of the North Pennines Area of Outstanding Natural Beauty (A.O.N.B.) and European GeoPark. We aim to minimize our impact on our environment in the following ways:

Sustainable
We aim to ONLY buy local produce
meat from our local butchers
Beer brewed in Allendale
Vegetables are all home grown… well most of them
Eggs are ALL layed by our free range chickens and ducks. We also like to eat our home reared chicken and local game when in season.
You will see, if you come, that from where we live you can hardly see any trees. That's why we have planted lots of new trees in our orchard.
NO chemicals are used in any washing or cleaning. We use ecloths, elbow grease and sometimes Ecover!! We also soap pods in the washing machine. All of our water is fresh from our spring and none of it has had chemicals added at all.
Our sewerage system is a septic tank. It is large and full of stones and bacteria which break down the waste and this then seeps away through reed beds.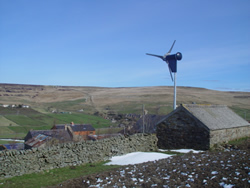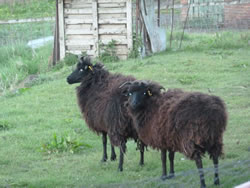 Renewable
We have recently installed a 6 kilowatt wind generator which makes more than enough energy for heat/light/hot water. We are also a net exporter back into the grid so we are known as a green power station!!
We have 3 multi fuel burners which we tend to fuel with wood from renewable sources.
Recycling is collected twice a month. We can and do recycle cardboard, glass and tins. One of our neighbours takes our plastic to an area that recycles it and the children shred the paper for animal bedding (guinea pigs and rabbit)
All our organic waste is fed to hens or composted.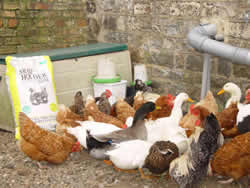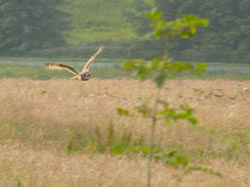 Ethical
We buy all of our tea, coffee, wine, linen and towels from fair trade companies.
We always consider our environment and our local community.
We soon hope to be the owner of one of an upland hay meadow! Which we hope to create in one of our fields. This will involve planting seeds gleaned from other meadows in the area and then caring for them traditionally. The North Pennines proudly has 70% of the upland hay meadows in the U.K. So this is really worth looking after and expanding.
We have recently had a large pond dug into our top field as a place for our ducks and geese to play and also to attract new wildlife. We have had many visitors from herons to dragonflies, wild geese and wild ducks we hope that we will attract lots more.
We are involved in a number of local and community initiatives. We actively contribute to and participate in projects in the voluntary and not-for-profit sector.